Creating a high-quality ESG report which consolidates complex data into clean, clear, and refined graphics and visuals go a long way to strengthening communication and building trust with employees, shareholders, investors, and all stakeholders. To demonstrate your company's commitment in addressing ESG issues and your ability in coping with ESG risks and to create sustainable value for shareholders, it is imperative to ensure your ESG report is optimized for efficient, and effective communication.
Bringing together the essential elements of ESG reports, a dedicated team for ESG creative is a backbone for achieving success through incorporating their specialized skills in ESG report design, infographics development, photography and multimedia design.  The final product is a report that effectively communicate the strategy employed by a corporate in mitigating ESG risks vulnerable to them, the ESG parameters that they set in achieving the designated UN SDGs and the ESG impacts they created for their stakeholders.
According to Robert E. Horn, of Stanford University's Center for the Study of Language and Information, "When words and visual elements are closely entwined, we create something new and we augment our communal intelligence. Visual language has the potential for increasing 'human bandwidth'—the capacity to take in, comprehend, and more efficiently synthesize large amounts of new information." Regardless if the ESG report is in print or digital version, by taking the time to prepare an ESG report that is visual-centric including infographics and images connected with text-based content, your ESG report will be more engaging to investors and stakeholders.
Below are five key elements that a high-quality ESG report should include.
1. Creating your own "Smart Color Schemes"
Xerox, a US print and digital document products and services company, proved in their 2017 research that using colors in business documents can have measurable results. 
The results found that:
Colored visuals increase people's desire to read content by 80%.

Content with images increases the view rate by 94%.

Our brains can see images that last only 13 milliseconds.

90% of information transmitted to the brain is visual.

The human eye can process 36,000 visual messages in an hour.
Color makes a powerful impact on your ESG report, especially on the cover of the report. However, it's important to avoid "color overload" and not depend on color alone to convey a message. For digital ESG report, it's good to be aware that colors can vary from one computer to the next because of differences in equipment. Regardless of the format, a black-and-white version needs to be as informative as the color version.
Tips for using color
Best not use more than five colors in a single layout and color should be used sparingly to highlight important information.

To increase the impact, choose a color that works well in lighter tones and those that contrast well against white. For example, green or blue work well as secondary colors.

White space provides structure on the page so as to not overwhelm your reader. Properly using white spaces makes a clear hierarchy which in turn makes the report easier to navigate.
2. Choosing clear and simple imagery is a way to enhance your ESG report
Imagery helps to reduce content needed to communicate with the audience thereby making the report more effective. A well-produced report should marry content with vivid visuals to reinforce the hierarchy of information, help to emphasize crucial items, and ensure the critical information is conveyed. Don't forget to include stunning photos that bring content to life.
The imagery used in ESG report needs to be aligned to key messages with realistic substance. Overuse of images should be avoided.  Try to avoid tired, blur and non-focus visual cliches, such as a "seedling in hands" photo that doesn't add visual value to your report.
Avoiding cliché imagery and instead focusing on achievements made regarding climate targets to give stakeholders a deeper understanding of the ESG report and content. Visuals should reflect the subject matter of your report. As a professional financial printing and communication solutions provider, we encourage reinforcing the content or messages of the ESG report by using impressive relevant images to enhance communication, not just as decoration.
3. Maximizing Use of Infographics
Now richer than ever, visual communication toolkits strengthen the design of infographics and strategy maps. An infographic-inspired design is a visual-first medium that should be the "must-have" element for ESG reports to minimize text and elevate data visualization to deliver messages. Infographic includes:
Charts

Well-designed charts and graphs provide an attractive and easy way to understand numbers in a spreadsheet. Colorful charts are visually stimulating and therefore, instantly spark interest. To draw attention to critical information, comparison charts and bar graphs can be highly beneficial.  Using formatting features make all data display cleaner and more readable. Charts also reduce the burden, time, and potential inaccuracies associated with ESG reporting.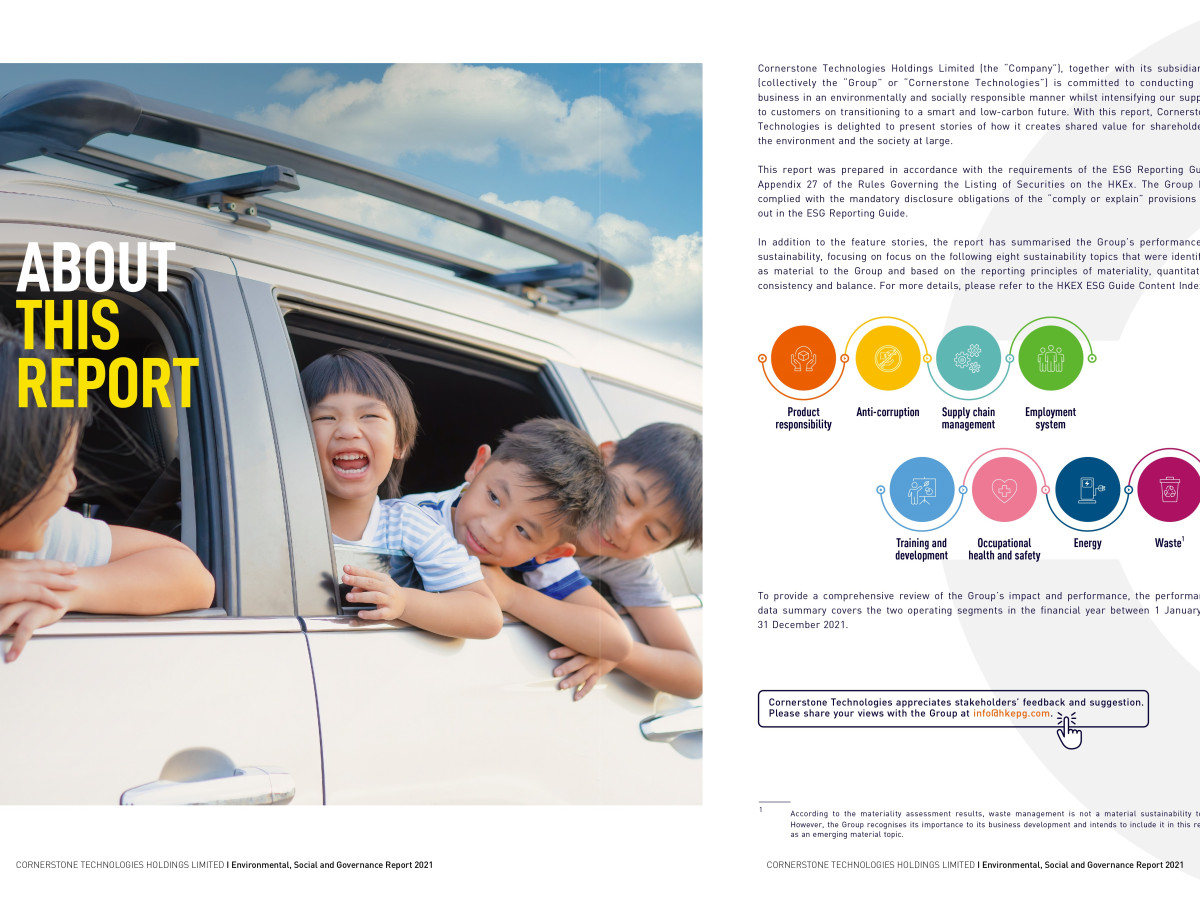 Symbols

Using symbols such as dots makes information easier to read at a glance. Also, keeping symbols close together creates a visual "block." To avoid confusing readers, use consistency when choosing colors for symbols. For instance, you may use blue for the symbols that indicate the best performance. You may consider using words as symbols to make the bullet points self-explanatory. If you are using symbols in a comparison chart, use strong contrasts in shape as well as color to help readers see the pattern of performance in your chart.

Iconography

Icons should be simple, easy to understand and universal. Remember that they're meant to enhance comprehension, never distract.
4. Graphic Design
Graphics show proportions, comparisons, trends, geographic and technical data on an ESG report. They are invaluable aids to your audience because they condense text, clarify relationships, and highlight patterns. Good graphics display the significance of your data and allow the reader to follow your discussion. However, avoid unnecessary designs including 3D charts, ornamental illustrations, or extraneous elements. Illustration is another effective way of communicating with numerous words and information if it matches the tone and subject matter.
Using Callouts

Using callouts sparingly to highlight key information enhances your visual by trimming the data into simple graphics and speeds up the ESG reporting process. Transforming numbers from data to brief key points with vivid graphics design make your ESG report unique and standout. It is also a time saver. With the appropriate visual graphics included in your report, you readers will be quickly informed of key ESG achievements.
5. Layout Design
Presenting content in a way that guides readers through a logical hierarchy is an important function of an ESG report. It's important to keep the layout clean and uncluttered by providing sufficient white space so that the display doesn't look crowded. Also the type size should be large enough for easy reading.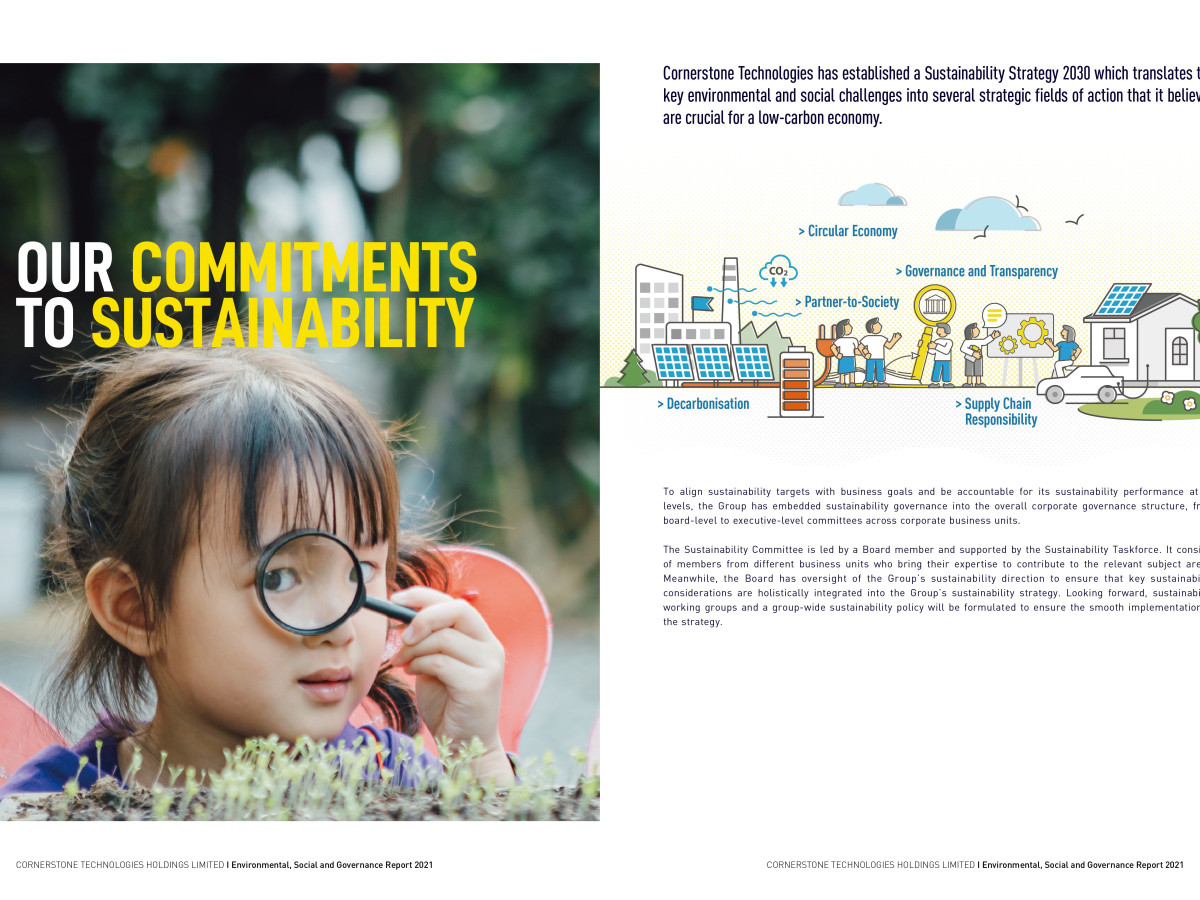 To help readers track across the page within a chart with rows-and-columns, consider using soft and subtle lines between the rows or use bands of very soft and subtle shading on alternate rows.
To keep the layout clean and smooth add warmth and interesting visuals to your report. Choose visuals that are clear, uncluttered, and culturally appropriate for your intended audience. 
Tips for layout design
All fonts should be legible and appropriate for the communication style.

Keep significant negative space. When too much information is in a layout, messaging becomes cluttered and incoherent.

Don't overwhelm the reader with multiple graphs of single data points when one graph combined will suffice.